Your Instructor(s)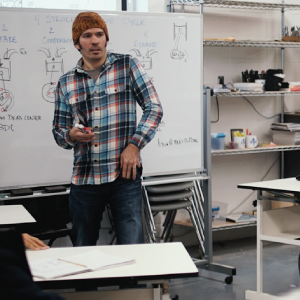 Tyler Feralio, PhD.
Design and Technology Instructor
Tyler is the Design and Technology instructor at Burlington Technical Center's Studio B. He holds bachelor's and master's degrees in mechanical engineering, both from Rensselaer Polytechnic Institute and a PhD in environmental engineering from the University of Vermont. Tyler has a diverse background in building and making, working as a carpenter, auto mechanic, race car designer and fabricator, composite part designer and fabricator, a design engineer for an international automotive manufacturer, and as a design engineer for an aftermarket all-terrain vehicle suspension manufacturer. He has in-depth knowledge of computer-aided design, manual and CNC machining, and hand fabrication, making him a valuable resource for students who want to explore the design and fabrication process.
About the Program
Students in this program will learn the fundamentals aspects of manufacturing, engineering, and design processes through both academic and hands-on work. A number of projects will be completed throughout the year which are specifically designed to build the students' ability to conceptualize a product, design that product, make that product, and, subsequently, evaluate the process.
Throughout the year, students will progressively increase knowledge in four target areas:
Precision measurement (English and Metric)
Communication (presentation, mechanical drawing,
and 3D design using SolidWorks)
Fabrication (sheet metal, welding, machining,
3D printing)
Data analysis (MS Excel or equivalent)
Students will have opportunities to earn certifications in areas such as safety, 3D design, and welding. Students also have the option of participating in annual SkillsUSA competitions. High School credits available include: VTC: Intro to Mechanical Technologies (1 Credit) Design Communication I (2 Credits) Manufacturing Processes I (2 Credits)
Advanced Manufacturing and Engineering for a Sustainable Future Occupations
Process Technician
Machinist
Welder
Assembler
Quality Control
Weld Inspector
Equipment Sales
Business Owner
Custom Fabricator
Construction Worker
Engineer