Your Instructor(s)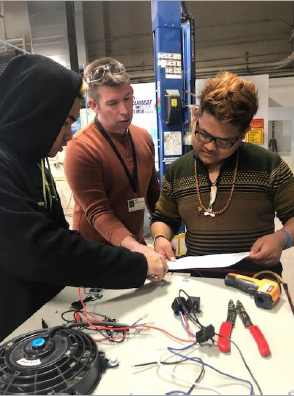 Sam Caron
Sam Caron has been at the Burlington Technical Center since 2016.  He has spent a lifetime in the collision repair industry, growing up around, as well as working at and running his father's auto body shop.  Repairing and working on cars has been a way of life that led to his other passion, motorsports. After getting a degree in Mechanical Engineering Technology at Vermont Technical College, Sam began racing stock cars at racetracks around New England. This led to a job at NDS Motorsports where Sam became a winning crew chief in the NASCAR K&N Series and built and prepared winning cars for the ARCA Racing Series. Sam is an ASE Master Certified Collision Repair Technician and is PPG Refinish Silver level certified.
About the Program
Students successful in this program will acquire the knowledge and skills to repair and refinish vehicles through a rigorous curriculum with a hands-on, minds-on approach. Using lessons, vocabulary and learned in the classroom, students will apply research and problem-solving skills in a scientific way to diagnose and repair vehicles, keep up with technological changes as well as work independently and as a team.
This course emphasizes SAFETY above all else. Classroom activities will include lectures, reading, writing, math, and problem-solving. Homework will include reading, research, writing, and assigned e-learning. Practical work taught in the course will include metal straightening, basic MIG welding, spray painting, paint mixing, estimating, and polishing.
The student who completes the Auto BodyRepair program can obtain certificates for S/P2 Safety and Pollution Prevention as well as I-CAR, an industry leader in training and knowledge. These certifications will help prepare students in the pursuit of a livelihood in this field and their commitment to lifelong education.
Units of study include safety, hand, and power tool identification and use, measuring, fasteners and materials, non-structural repairs, refinishing, and estimating to list a few.
Follow this link for the CTE Automative, Diesel Technology, Auto-Body Collision Programs Proficiency Summary, as detailed on the VT AOE website.
SP2 Collision Repair Safety certification, SP2 CollisionRepair Pollution Prevention Certification, I-CARcertifications, Articulation agreements with LincolnTechnical Institute, National Technical Honor Society, and SkillsUSA
Auto Body Repair Occupations
Auto Body Technician
Automotive Refinisher
Estimator
Glass Technician
Detailer
Sheet Metal Technician
Parts Specialist
Shop Manager/Foreman
Shop Owner
Insurance Appraiser
Welder