Your Instructor(s)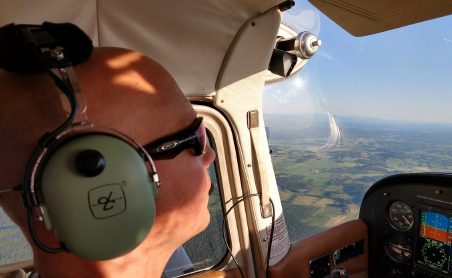 Jason Cooper, B.S., A&P
Jason is the Aviation and Aerospace Technology instructor at Burlington Technical  Center.  He holds a Bachelor of Science degree in Electro-Mechanical Engineering Technology from the State University of New York at Alfred.  Jason is also an FAA  certificated Airframe & Powerplant mechanic.
He taught in the BTC Aviation post-secondary program for over five years before transitioning to the high school in 2017.
Jason has a long history of working on mechanical and electrical systems that started on the family farm and continued when he attended an electrical trades course at a local tech center during high school.  After college, he spent over ten years troubleshooting automation systems used in the production of microelectronics at IBM  before going back to school for aviation. Jason worked on aircraft for several years as an A&P  before moving into education. His passion for anything mechanical,  electrical or aviation-related helps him to inspire his students to work and try harder.
About the Program
This program, also known as the FAA General, is a highly technical and multidisciplinary curriculum that teaches students not only how aircraft work but how to troubleshoot, inspect and maintain those aircraft.
Units include everything from the basics like math and physics to more aviation-specific subjects like corrosion control, aircraft hardware, flight surfaces, as well as FAA rules and regulations. We blend classroom theory with plenty of hands-on practical experience in order to prepare our students for a future in aviation.
Students disassemble and reassemble piston and turbine engines, learn about hand tools and how to properly use them, learn to weld, and even how to run an aircraft on the ground.
Airframe & Powerplant (A&P); College credits available: Aviation related colleges may award (up to 67) college credits to students earning their Airframe & Powerplant License (A&P); National Technical Honor Society, SkillsUSA High School credits available include: Year 1- 3 Elective Credits Year 2 - 1 Elective Credits, 1.0 Science Credit and 1.0 Math Credit
Aviation and Aerospace Occupations
Aircraft Mechanic A&P
Avionics Technician
Aerospace Engineer
Aviation Manufacturing
Pilot
Aircraft Manufacturing Engineer
Electrician
Research and Development Technician
Composite Fabricator