Your Instructor(s)
Stacy Clark
Assistant Director of Adult Education
Stacy is thrilled to join the BTC community this year as the Assistant Director of Adult Education & Career Pathways Coordinator. She began her teaching career as an ELL teacher in Thailand in 2012, where she first became interested in educational equity and access. Since then, she has worked as an educator with a variety of organizations, from local high schools and nonprofits to national and state entities. With each experience, her passion for building meaningful and accessible student-centered educational programs has continued to grow.
Stacy holds her M.Ed. in Educational Foundations, M.F.A. in Creative Writing and Graduate Certificate in Environmental Narratives from Northern Arizona University, where she taught writing and composition from 2019 to 2021. She has a B.A. from the University of New Hampshire, 450-hour TESOL certification, Safe Zone I & II, has published several literary essays and is currently working towards her Vermont Administrative License in Adult Education.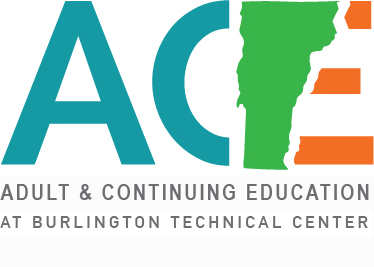 About the Program
Adult & Continuing Education (ACE) at Burlington Technical Center provides workforce development courses and comprehensive programs for adults in the greater Burlington community. Our goal is to graduate students that are highly qualified to enter the workforce, with the skills and abilities to succeed.
ACE delivers opportunities through practical instruction in lab and classroom settings, through both in-person and hybrid models. We partner with industry to build training programs that meet specific hiring needs, and collaborate with the Department of Labor, Vermont Adult Learning, and other organizations and entities.
ENROLLMENT IN DAYTIME PROGRAMS:
Adult students may also enroll in day programs being offered at Burlington Technical Center as space allows. For daytime programs and application processes please visit the BTC website for current day time class information.
*If you are interested in our Aviation program, please contact Stacy Clark at sclark@bsdvt.org for more information.
_____________________________________________________________________________
CURRENT COURSES:
We are currently in the process of updating our course offerings for the year. We appreciate your patience! For Adult Education courses at all VT CTE Centers, visit VACTEA's site here. Please check back on this page for updates, and feel encouraged to contact Stacy at sclark@bsdvt.org with any questions.