Your Instructor(s)
Stacy Clark
Assistant Director of Adult Education
Stacy is thrilled to join the BTC community this year as the Assistant Director of Adult Education & Career Pathways Coordinator. She began her teaching career as an ELL teacher in Thailand in 2012, where she first became interested in educational equity and access. Since then, she has worked as an educator with a variety of organizations, from local high schools and nonprofits to national and state entities. With each experience, her passion for building meaningful and accessible student-centered educational programs has continued to grow.
Stacy holds her M.Ed. in Educational Foundations, M.F.A. in Creative Writing and Graduate Certificate in Environmental Narratives from Northern Arizona University, where she taught writing and composition from 2019 to 2021. She has a B.A. from the University of New Hampshire, 450-hour TESOL certification, Safe Zone I & II, has published several literary essays and is currently working towards her Vermont Administrative License in Adult Education.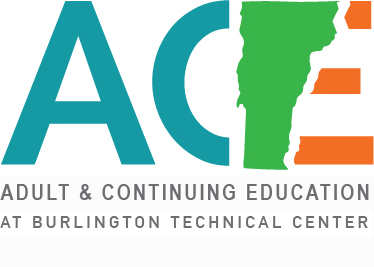 About the Program
Adult & Continuing Education (ACE) at Burlington Technical Center provides workforce development courses and comprehensive programs for adults in the greater Burlington community. Our goal is to graduate students that are highly qualified to enter the workforce, with the skills and abilities to succeed. ACE delivers opportunities through practical instruction in lab and classroom settings, through both in-person and hybrid models. We partner with industry to build training programs that meet specific hiring needs, and collaborate with the Department of Labor, Vermont Adult Learning, and other organizations and entities.
______________________________________________________________________________
CURRENT COURSES:
POST-SECONDARY AVIATION AND AEROSPACE TECHNOLOGY PROGRAM
ABOUT THE PROGRAM
If you have a passion for aviation, love hands-on work and complex problem solving, a career in aviation may be for you. There is a huge, unmet demand for qualified aircraft mechanics; recruiters visit or contact our program on a regular basis in hopes of hiring our highly qualified graduating students for various job opportunities.
The post-secondary aviation program picks up where the prerequisite program, secondary Aviation and Aerospace Technology program* left off, and is intended for students pursuing their Federal Aviation Administrations' (FAA) Aircraft Mechanic certification. Students will receive in-depth, hands-on training in subject areas such as aircraft assembly and rigging, sheet metal fabrication and repair, advanced composites, avionics, inspection procedures and turbine and piston engine maintenance. After graduating from the program, students have the option of pursuing their FAA Mechanic Certification (A&P).
*Secondary Aviation and Aerospace Technology (also known as the FAA General) is a 490 hour required prerequisite course that may be completed within one academic year prior to acceptance to the post-secondary program.
Course Structure: Students attend this FAA certified Part 147 program for one academic year, attending class 8 hrs/day, 5 days/wk. While some time is spent in the classroom environment (apx. 30%), most of the learning occurs in the hangar, working on our diverse fleet of airplanes and helicopters. The year is broken up into two sections: Airframe and Powerplant with each section encompassing about 750 curriculum hours.
PROGRAM OUTCOMES
Students completing the program are qualified to apply for their FAA Mechanic Certificate. BTC has the personnel to offer all the required testing in-house, and can even issue your temporary FAA certificate. Certified mechanics can work in a variety of aviation fields on different types of aircraft and most employers offer plenty of room for career advancement, as well as paid training. The multi-disciplinary training students receive prepares them for other technical fields besides aviation; many of our students have gone onto engineering school or pursued other technical areas. 
EMPLOYMENT WITHIN THE AVIATION FIELD
Airline mechanic
Sheet metal technician
Avionics technician
Composite repair
General aviation (small aircraft)
Helicopter mechanic
UAV mechanic
Component repair
and much more!
INSTRUCTOR BIO
Moses Daly has been an FAA certified A&P for 20+ years having worked in general aviation, for flight schools and the airlines. In addition to being an A&P, he has his Inspection Authorization (IA) and is an FAA Designated Maintenance Examiner (DME). He's also a certified Commercial pilot and flight instructor and co-founded Vermont's largest FAA Part 141 flight school, Vermont Flight Academy. In his spare time he enjoys taking people for rides up and down Lake Champlain in his Cessna 172H. Moses has been sharing his love of all things aviation with BTC students for over 10 years.
For more information on this program, please see our program flier or contact Stacy by email or phone.
_____________________________________________________________________________
_____________________________________________________________________________
ENROLLMENT IN DAYTIME PROGRAMS:
Adult students may also enroll in day programs being offered at Burlington Technical Center as space allows. For daytime programs and application processes please visit the BTC website for current daytime class information.
_____________________________________________________________________________
We are currently in the process of adding further course offerings for the year. We appreciate your patience! For Adult Education courses at all VT CTE Centers, visit VACTEA's site here. Please check back on this page for updates, and feel encouraged to contact Stacy at sclark@bsdvt.org with any questions.