Your Instructor(s)
Stacy Clark
Assistant Director of Adult Education
Stacy is thrilled to join the BTC community this year as the Assistant Director of Adult Education & Career Pathways Coordinator. She began her teaching career as an ELL teacher in Thailand in 2012, where she first became interested in educational equity and access. Since then, she has worked as an educator with a variety of organizations, from local high schools and nonprofits to national and state entities. With each experience, her passion for building meaningful and accessible student-centered educational programs has continued to grow.
Stacy holds her M.Ed. in Educational Foundations, M.F.A. in Creative Writing and Graduate Certificate in Environmental Narratives from Northern Arizona University, where she taught writing and composition from 2019 to 2021. She has a B.A. from the University of New Hampshire, 450-hour TESOL certification, Safe Zone I & II, has published several literary essays and is currently working towards her Vermont Administrative License in Adult Education.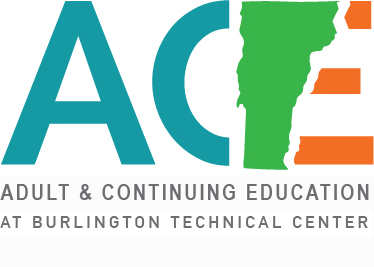 About the Program
**IMPORTANT UPDATE REGARDING SUMMER ENROLLMENT: The final day to enroll for Adult Education programs during the summer months is June 1st, 2022.**
Adult & Continuing Education (ACE) at Burlington Technical Center provides workforce development courses and comprehensive programs for adults in the greater Burlington community. Our goal is to graduate students that are highly qualified to enter the workforce, with the skills and abilities to succeed. ACE delivers opportunities through practical instruction in lab and classroom settings, through in-person, online hybrid models. We partner with industry to build training programs that meet specific hiring needs, and collaborate with the Department of Labor, Vermont Adult Learning, VocRehab and other organizations and entities.
Learn about and apply for the VSAC Advancement Grant on VSAC's website, linked here.
__________________________
CURRENT & UPCOMING COURSES:
DIGITAL PAINTING WORKSHOP (Mon & Wed 5:30- 7:30/8 p.m., May 2nd- May 27th)
A four-week program that will train anyone from growing digital artists to artists with no experience working digitally to use Photoshop to create digital concept art, paintings, or illustrations. By the end of this course, students will know the following:
How to use the basic functions of Photoshop with a graphics tablet to create digital drawings and paintings
How to use more advanced functions like photo-texturing, transforming, color-editing, advanced selections, and more functions that are exclusive to the digital medium
How to use references to improve digital artworks
How to create and use different types of digital brushes
An overview of art fundamentals and basics and how to apply them to digital artwork
How to enter the business of digital illustration and create a strong portfolio
Instructor: Eben Schumacher
Cost: $240.00
Interested? Email Stacy @ sclark@bsdvt.org to learn more!
_________________________
POST-SECONDARY AVIATION AND AEROSPACE TECHNOLOGY PROGRAM
The Post-Secondary Aviation program picks up where the prerequisite program, secondary Aviation and Aerospace Technology program* left off, and is intended for students pursuing their Federal Aviation Administrations' (FAA) Aircraft Mechanic certification. Students will receive in-depth, hands-on training in subject areas such as aircraft assembly and rigging, sheet metal fabrication and repair, advanced composites, avionics, inspection procedures and turbine and piston engine maintenance. After graduating from the program, students have the option of pursuing their FAA Mechanic Certification (A&P).
Click here to learn more about the Post-Secondary Aviation & Aerospace Technology program.
___________________________
ONLINE ed2go @ BTC COURSES
ed2go @ BTC is a flexible online platform offering over non-credit fundamentals courses and specialized career training programs to meet your learning needs, on your timeline. A new session for each course starts every month and most offer the choice of instructor-led (using a lively, online Discussion Area) or self-paced versions.
ed2go @ BTC's Fundamentals Skills courses generally run 6-weeks in length, and help you gain skills in areas ranging from Arts & Design and Language Learning to Information Technology and Construction & Trades. These courses are designed to be informative, fun, convenient, and highly interactive. Learn more about our Fundamental Skills course offerings here.
ed2go @ BTC's Career Training* courses are online open enrollment programs designed to provide the skills necessary to acquire professional level positions for many in-demand occupations. Many of these courses help students prepare for testing, licensing and credentialing necessary for their specific industry. Learn more about our Career Training course offerings here.
*Funding for our Career Training courses may be available through VSAC; please contact us for more information.
**Email sclark@bsdvt.org to learn more, and register for these courses through the links provided.
___________________________
ENROLLMENT IN DAYTIME PROGRAMS:
Adult students may also enroll in day programs being offered at Burlington Technical Center as space allows. For daytime programs and application processes, please visit the BTC website for current daytime class information. To apply, use the "Apply Now" link on the upper right hand side of the header.
____________________________________________________________
We are always adding additional course offerings. Please check back on this page for updates, and feel encouraged to contact Stacy at sclark@bsdvt.org with any questions.
If you have a suggestion for a course, or would like to teach a specific course, please feel encouraged to reach out.
For Adult Education courses at all Vermont CTE Centers, visit VACTEA's website here.
____________________________________________________________
Previous Courses 2021-22 School Year
PARAEDUCATOR PAID TRAIN-TO-HIRE COURSE
This unique, one-day / 5-hour paid training event will take place on Saturday, April 30th, 2022 from 9 a.m. to 2 p.m.. Students interested in a career as a paraeducator will find this crash course on the role of the paraeducator informative, meaningful and engaging, including basic skills, practice and pedagogy. Upon successful completion of the five hour course, students receive a certificate of completion and compensation for their time. *Students are strongly encouraged to apply to paraeducator positions following this course!*
Who: Adults with 2 or more years of post-secondary education
When: Saturday, April 30th, 2022 from 9 a.m. to 2 p.m.
Where: Burlington Technical Center, 29 Church Street/110 Cherry Street LL, Burlington VT
Instructor: Danielle Brigham
Cost: Students will be PAID at a rate of $15.99/hr for their time in this course, through generous grant funding from the McClure Foundation.
Interested? Email Stacy @ sclark@bsdvt.org to sign up and learn more. Pre-registration is required.
____________