Your Instructor(s)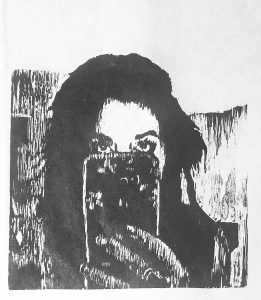 Ashley Stagner
Ashley is a teacher and practicing artist in her field. She earned her BA at Hamilton College in 2009 and a Masters in the Art of Teaching (MAT) at Colgate University in 2011. Following the completion of her master's degree, she took further courses at UVM and  RISD.
She is dual certified in both NY and VT for 7-12 English and K-12 Visual Art, due to her belief that verbal and visual communication need to operate together. After teaching for five years in NY, she moved to VT and has been teaching in Burlington for the past four years.
Primarily a printmaker (intaglio, woodcut, and silkscreen), her work has been shown nationally in group exhibitions as well as solo shows. Aside from teaching at Burlington  Technical Center, she also teaches printmaking to adults at the BCA studios.
Her students have won the Scholastic Gold Key in drawing and illustration, Congressional  Art awards, US Presidential Scholar in the Arts, and have been awarded merit scholarships from their senior portfolios.
About the Program
Imagine spending more than two hours of your school day on art, every day.
Our Design & Illustration program pushes art students to become masters in visual creative problem solving and self expression by immersing them in a wide array of artistic mediums. Study all aspects of graphic design on an iMac loaded with industry-standard Adobe Creative Cloud software. Work towards mastering drawing in our figure drawing and still life studios. Paint, collage, sketch or do whatever you love in a Visual Journal. Learn to take professional portraits and fine art photographs with a DSLR camera or animate on a Wacom Cintiq digital illustration tablet.
Design & Illustration will expose you to many artistic mediums and put the best tools and technology in your hands, all while helping you (one-on-one) build your strongest portfolio for applying to schools or to continue your artistic practices in life after high school.
All students need to submit a portfolio of at least 5 works for review, and interview with the instructor as part of the application process for this program.
Art I, or an equivalent (Digital Photo I, Graphic Design I), is a prerequisite for this program. Enrollment, and completion, in a college or community class (Burlington City Arts) does count (Eg. Drawing I at CCV, UVM, RISD continuing education).
CREDENTIALS, CERTIFICATES, WORK-BASED LEARNING AND LEADERSHIP OPPORTUNITIES
Portfolio; National Technical Honor Society; SkillsUSA
High School credits Available:
Year 1: 3.0 Elective Credits
Year 2: 2.0 Elective Credits and 1.0 Fine Arts Credit
Credit Opportunity for AP Studio Art
Dual Enrollment/College Credit Opportunities (Up to 12 College Credits)
Drawing I (3 credits)
Introduction to Adobe Creative Cloud (3 credits)
Graphic Design I (3 credits)
Digital Photography (3 credits)
Follow this link to the CTE Digital and Visual Arts Programs Proficiency as detailed on the VT AOE website.
Design and Illustration Occupations
Graphic designer
Illustrator
Studio artist
Photographer
Fashion designer
Animator
Art Director
Social Media/Marketing specialist
Art therapist
Craft artist
Tattoo artist
Art instructor
Curator