Students are to complete this application online. In addition to this student application, for consideration of acceptance, counselors must forward academic information to BTC (transcript, assessment scores, attendance records).
We require students to visit the programs they're applying for prior to acceptance. There are 2 remaining information sessions coming up. If information sessions for the program you're interested in have passed, please contact our school counseling coordinator, James Yepez, at (802) 864-8426 x 12006 or jyepez@bsdvt.org. We're happy to plan a visit for you!
Our next information session for Auto Body, Auto Technology, Aviation, Advanced Manufacturing, and PreTech. It will be on on Thursday, March 23rd, with sessions running from 5pm-6pm and 6pm-7pm. Please see details below: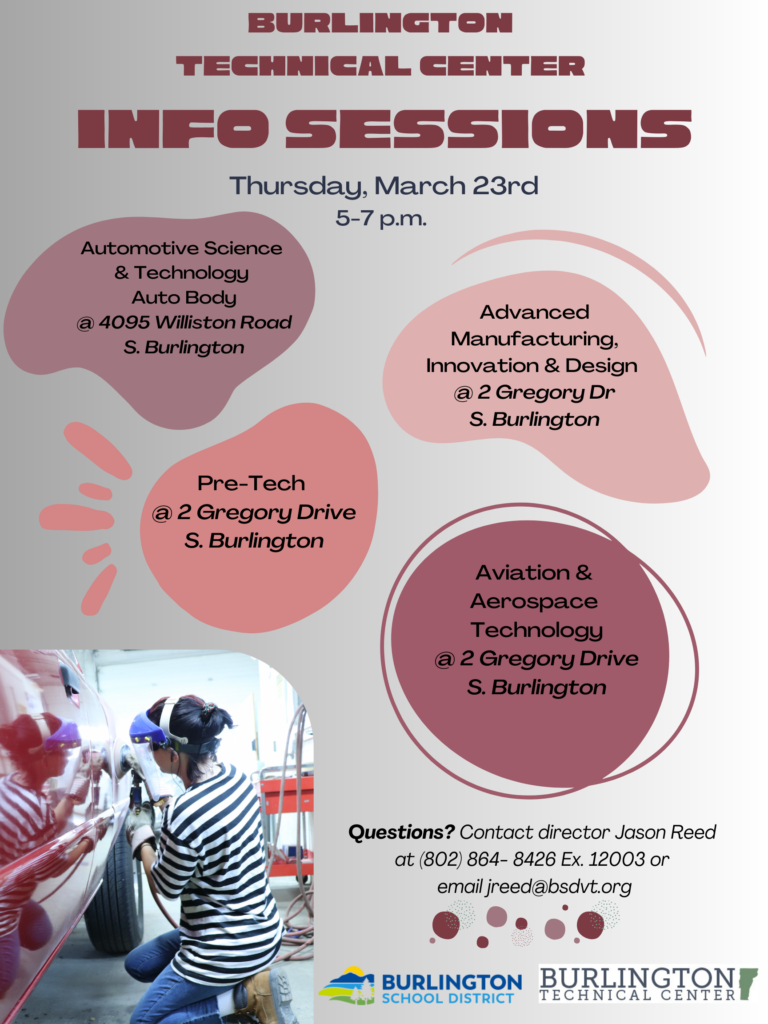 Our Education, Training, and Leadership program will have an information session in the near future! Check back for details.
Burlington Technical Center does not discriminate on the basis of race, color, national origin, sex, disability, sexual orientation, gender identity, marital status, or age in its programs or activities. The following person has been designated to handle inquiries regarding the nondiscrimination policies: Jason Reed, Director, 29 Church Street LL, Burlington, VT 05401. * 802-864-8426* jreed@bsdvt.org