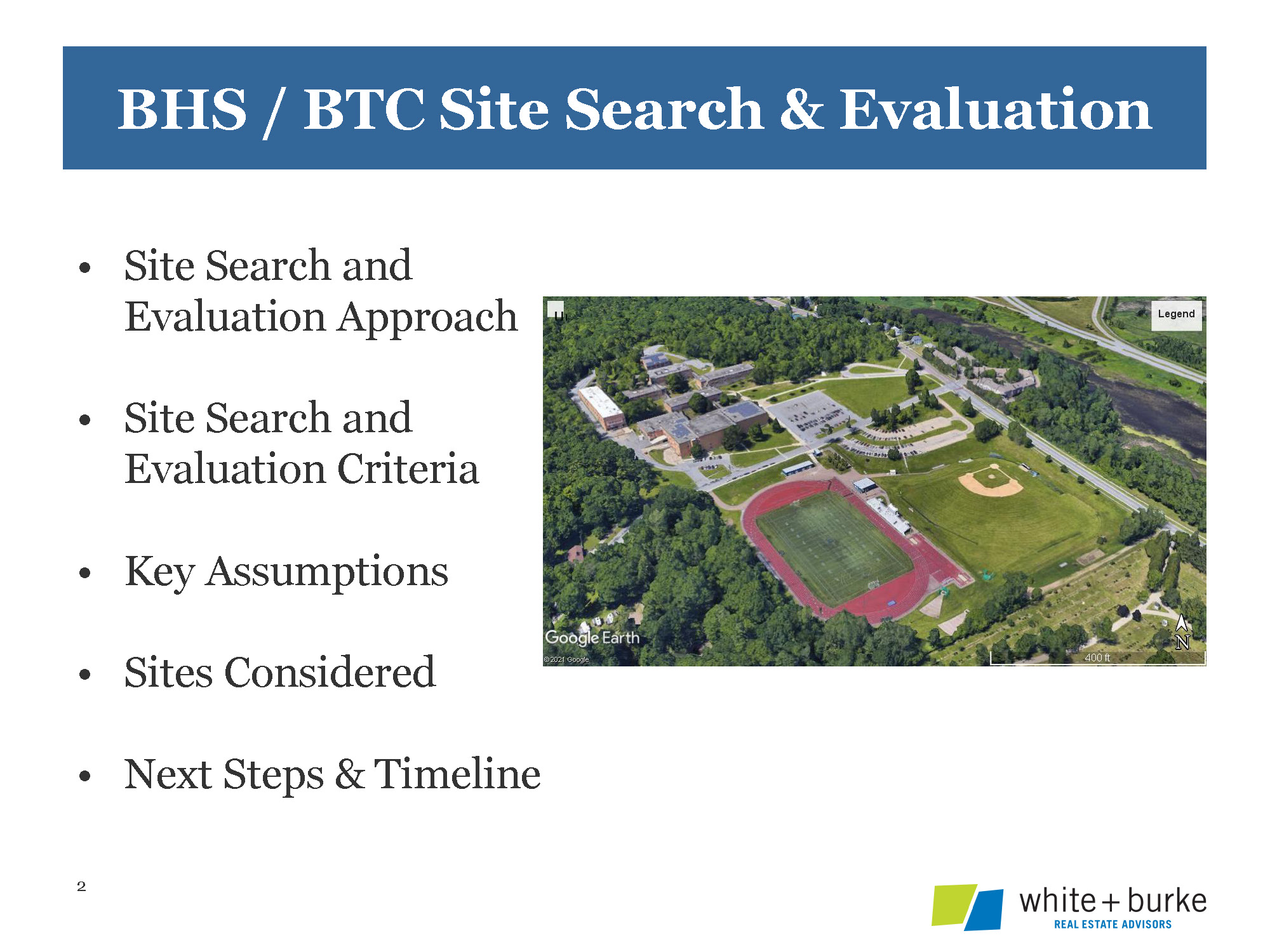 The search for a new Burlington High School (BHS) and Burlington Technical Center (BTC) campus is moving smoothly. On August 17, Burlington School District (BSD) real estate consultants White + Burke joined the BSD school board meeting to give an update on Phase I of our search for a new location. Their presentation was recorded by Media Factory, and you can view their slideshow online. 
During the meeting, White + Burke explained that Phase I of the project focused on gathering a broad list of sites that might be considered as locations that could hold the new BHS/BTC campus. The goal was to cast a wide net, and they gathered ideas through their own knowledge as well as talking with school district employees and through a District google form sent out to the community. They noted that the process identified 16 possible sites, which they presented in alphabetical order:
345 Pine St (former VT Transit)
453 / 501 Pine Street
Centennial Field
Champlain Elem / BSD Facilities
City Place Pit
CP Smith / Shifilliti Park
Elks Property
Gateway Block
Institute Rd. – North Side
Institute Rd. – South Side
Lakeside Ave. / Sears Ln.
Leddy Park
Macy's / City Place Pit
Rock Point
Sisters of Mercy
Urban Reserve
It is important to note that White + Burke's task for Phase I was only to identify possible sites, and not to engage in conversations with private or public landowners at this time. The Burlington Board of School Commissioners will now review all the sites provided by White + Burke, along with rankings of the sites provided to the board separately. The goal of this process will be for the board to select fewer than five sites to advance to Phase II of the project. In Phase II, White + Burke will perform more detailed site evaluations to help us determine which site or sites might be best, at which point we may begin reaching out to landowners for preliminary discussions.
The board will meet again on August 24th in executive session to have some of these conversations. As we work to narrow the list of possible sites, there is still time to have your voice heard. If you have comments or suggestions about any of the sites listed above, you are welcome to come speak at public comment on the 24th, or send an email to the superintendent's office (superintendent@bsdvt.org) and/or your commissioner. 
With your support of this process, we can stay on track to meet the goal of getting a Bond Vote on the March or November 2022 ballot so that we can welcome all of our BHS/BTC students into a new building by August 2025. This is an aggressive timeline and we will do our best to move quickly while making student-centered decisions. We hope you will stay engaged and involved in this process so that we can move together as a community in support of this goal.