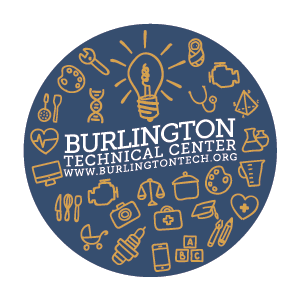 Dear BTC Students and Parents/Guardians/Families:

Welcome!
First and foremost, on behalf of the entire BTC faculty and staff, welcome. We start the
year with more than 270 students coming to us from nine "sending" high schools. We are
very excited to return to full time instruction and move past all of the challenges 2020-21
school year presented to us. I know our staff did an amazing job last year and are ready to
get back to learning with students. While we cannot predict what is in store for us in
2021-22, we can only hope this year will be new, exciting, and less disruptive. Even with
all the different challenges last year BTC students were still able to earn Dual Enrollment
college credits, industry credentials, participate in job shadows and continue to develop
their college career plans. We look forward to providing an outstanding experience this
year as well.
This first welcome letter will provide you a lot of helpful information to start the year off
right as well as a better understanding of how BTC works. We know you are anxious to
understand how our schedule and learning will take place as we get closer to starting
school. We hope this will help and please feel free to contact me with questions in order
to have a smooth transition to the year.
2021-2022 BTC Addresses & Locations
As you may recall BTC closed is building in 2020 and have relocated our classrooms,
labs and programs. We are excited to be near the business and industries which allow for
collaboration with many program advisors.
PROGRAM LOCATION
Aviation
2 Gregory Drive South Burlington, VT 05403
Auto Body, Auto Tech
4095 Williston Rd, South Burlington, VT 05403
Criminal Justice
29 Church St. (which is also 110 Cherry St.), Burlington, VT 05401
Culinary Arts
St. Mark's Church, 1251 North Ave., Burlington, VT 05408
Digital Media Lab
29 Church St. (which is also 110 Cherry St.), Burlington, VT 05401
Design and Illustration
29 Church St. (which is also 110 Cherry St.), Burlington, VT 05401
Health Sciences Academy
29 Church St. (which is also 110 Cherry St.), Burlington, VT 05401
Human Services
North Alliance Church, 901 North Ave, Burlington, VT 05408
Health Sciences Introduction
29 Church St. (which is also 110 Cherry St.), Burlington, VT 05401
Pre-Technical
2 Gregory Dr, South Burlington, VT 05403
BTC Administrative offices (Director, Guidance, Work Based Learning, Student Support
Services, English Language, and Adult Education) will be at:
29 Church St, Burlington, VT, which is 1½ blocks away from Downtown BHS, basically
up Cherry Street towards Church Street.
Auto Body and Auto Tech are right next door to Pre-Technical and Aviation. BTC
support services team will float around to each location to best serve our student and staff
needs throughout the year.
Transportation:
BTC has worked with and collaborated with all of your partner high schools to ensure
bus service is available to each location, including Burlington High School. The school
bus will drop students off right outside the building and pick them up in the same location. A BTC staff member is usually waiting outside for the bus and for students to say "welcome" or "have a great day" or be of any assistance.
Daily Schedule
BTC first year students attend from 9:35AM to 11:47 AM and second year students
attend 12:09-2:21 each day. Busses will pick and drop off accordingly so a student will
not be late for their next class at their home high school.
General Information
● BTC is working with your partner high school principals as we continue to plan
for a return to five day a week instruction.
● Please ensure we have your email on file as each weekend I will email you an
update on the center and any important information about college career planning.
● Safety is our first goal in working with you and students we will ask that frequent
hand washing, monitoring the health of a student so we can prevent illnesses.
● Attire- Students need to be dressed appropriately for their program. In a shop or
mechanical program there are no open toed shoes. Clothing should be worn to
keep a student safe. Students need to wear clothing without inappropriate
language, pictures of weapons, alcoholic beverages, or extreme rips & tears. In a
program that is classroom based, clothing should be semi-professional. BTC
wants students to model professional attitudes, attire, and be ready for the
workforce.
● Students who drive to BTC locations:
Students who drive to Auto Body or Auto Tech, Aviation, Advanced
Manufacturing, Human Services, and Culinary Arts will have on site parking.
Please connect with your program teacher about parking.
Students who attend a program at Downtown BTC 29 Church Street, we are
working with Burlington High School to have you park in the garage down the
street from BTC (about a 2-block walk). We will send out more information for
students who need to get a parking permit from the BTC office.
Driving other students; we take your student's safety seriously and ask that
students do not drive other students without the written permission of a
parent/guardian/immediate family member.
Keys to Success at Burlington Technical Center:
● Attendance- Daily attendance is the key to a successful year in program. Please
call the attendance line (802) 864-8426 X12002 if you know your student will be
absent for any reason or needs to leave early. If you have questions about
attendance, please refer to the Student Handbook on our website or call the office
at 802-864-8426.
● Lunch Time- Students who wish to eat during their time with BTC will have an
opportunity to have a meal provided. Lunch will be dropped off by 10:45 AM
each day. Students should sign up with their program teacher so we can ensure
there are enough meals for everyone. Eating will have to be in the student's program. Meals are provided by the Burlington Food Service Department.
BTC to School Night
● Once we return to school and all of our programs are settled into their spaces we
will organize a back to school night so you can see the program space, meet the
program teacher and start to become connected with BTC.
Who to Contact at BTC when you have a question?
● Questions around attendance, permission to leave early, day to day scheduling,
Power School Passwords, please contact Joan Williamson in the office at 802-
864-8426 X12002
● Questions about Work Based Learning, Co-Op and Career Planning please
contact Shannon Bundy at 802-864-8426 X12110
● Questions about Students who are on service plans and who would like academic
or program support would be directed to Danielle Brigham at 802-864-8426
X12009
● Questions about daily life, schedule, grades, and classroom-based information
would be directed to the program teacher. Please start with them for direct
information about your student.
● BTC is in the process of hiring a new Guidance counselor and will update once
the position has been filled. If you have any questions, please reach out to myself
or Dani Brigham in the meantime.
● Questions about any of the above, or something different, please contact Jason
Gingold, Director at 802-864-8426 X12003 or jgingold@bsdvt.org
We look forward to seeing students on the Thursday, August 26th, the first day of school.
We have been working hard to prepare a school year that will be challenging, rewarding,
and fun. Please do not hesitate to contact us if you have any comments, questions, or
concerns.
There is so much going on at BTC – please visit https://btc.bsdvt.org/
to see what our programs are all about or feel free to call 802-864-8426 if you have any
questions or want to know more about BTC. We are committed to making the 2021-2022
school year a positive and rewarding experience for everyone who joins our growing
family!
Sincerely,
Jason Gingold, Director