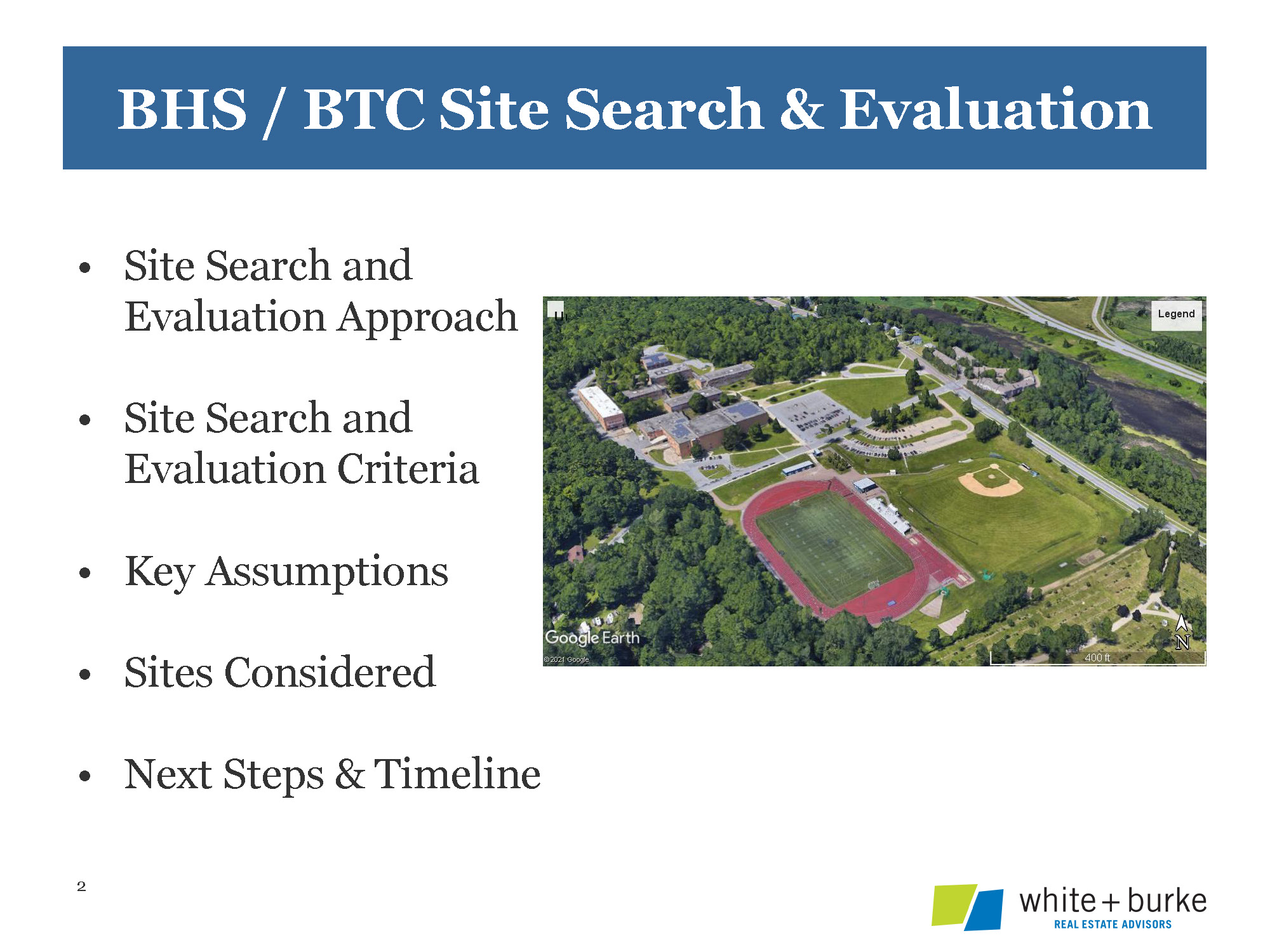 September 13, 2021
Hello Burlington community,
At tomorrow night's regular board meeting (Tuesday, September 14) the Burlington Board of School Commissioners will take the next step to determine the future of our BHS/BTC campus. The meeting will be hosted at Sustainability Academy beginning at 6 PM, with both in-person and virtual options (Zoom and Facebook) available; you can view the complete agenda on BoardDocs.
Based on the work done by our partners at White + Burke, at this time, Institute Road is the front runner as the location for our new campus because we own the land and this will likely allow us to complete the project within our projected timeline. Also, with our athletic fields on the campus, easy access to the site, and proximity to the city, the woods, and the lake, it offers great opportunities for deep learning that is embedded in the special environment that surrounds us.
However, throughout this process, we have also heard interest from both the community and the City in the possibility of a downtown location. I agree with the community that is asking us to look more closely at a downtown site, as the opportunity for partnerships and for learning that is connected to the city could be very exciting. My primary concern is the feasibility of a downtown project from a time and cost perspective and the separation of our school and fields, but I do think it is worth further investigation to learn more about the possibilities.
With all of this in mind, on Friday I recommended to the board that we move forward investigating both the locations at 52 Institute Road as well as the Gateway Block. It is my goal that we advance these sites for further review and that the board will be prepared to make a final decision by the first board meeting in November.
I want to thank all of you who have engaged with us in Phase I of this project and reached out to offer feedback. Your support and involvement is greatly appreciated and will continue to be important we work to get into a new building by August of 2025. I hope to see many of you Tuesday night, as a reminder if you want to participate in public comment virtually, please log into Zoom and you can always feel free to email feedback to me and/or your commissioners directly.
In partnership,
Tom