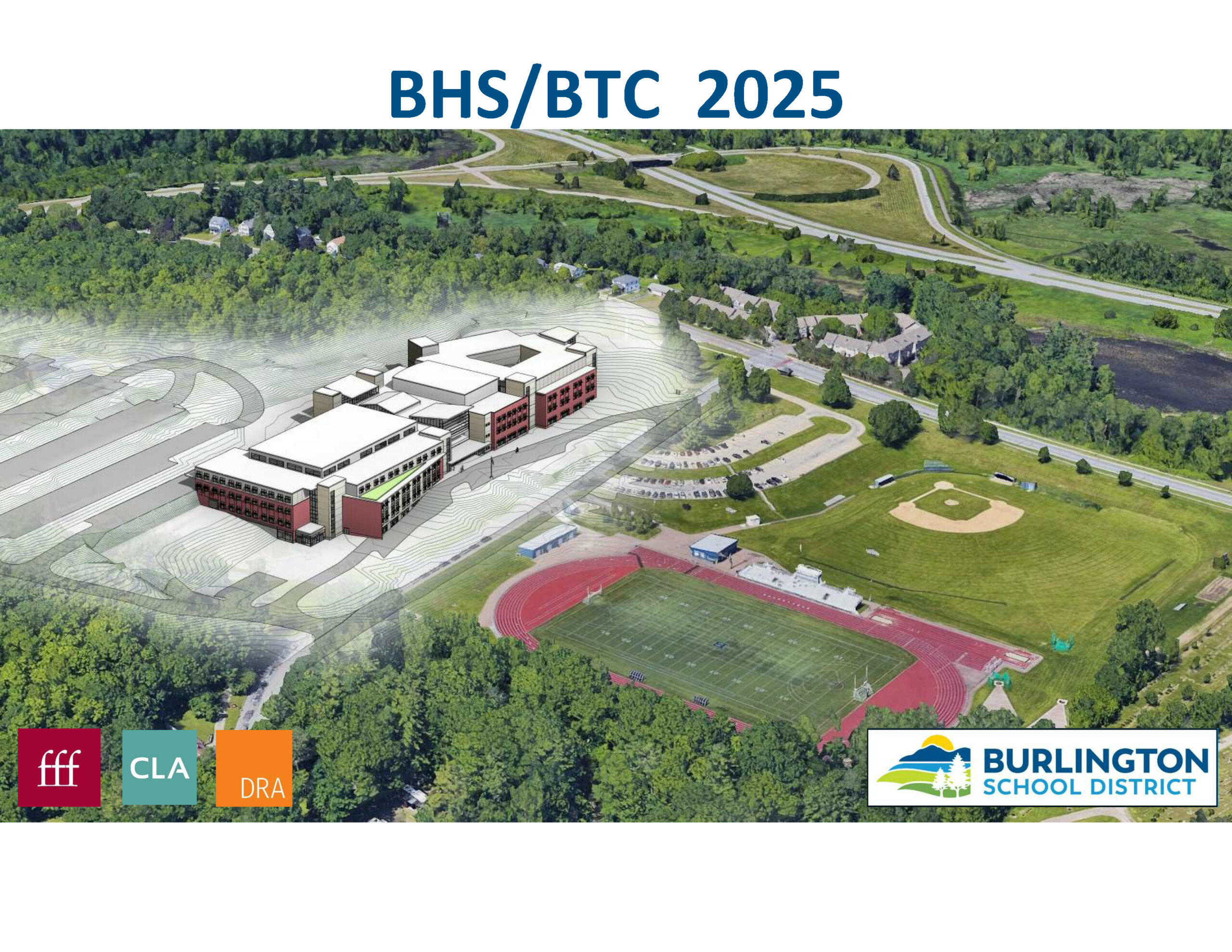 BHS/BTC 2025 Ballot Question Approved by City Council! Still have questions after reading? To learn more about BHS/BTC 2025, volunteer, or donate to the support project, visit  www.bsdvt.org/bhs-btc-2025.
On Monday, August 15, Burlington City Council voted to allow Burlington School District (BSD) to put a bond request on the November ballot. After months of planning, District leaders presented City Council with a request to ask voters to allow the District to borrow up to $165m to build a new high and technical center on Institute Road. City Council voted unanimously to allow the measure to go on the November ballot.
"This is a huge step forward and I am grateful to Mayor Weinberger and Burlington City Council for their support of this project," said Superintendent Tom Flanagan. "Today's vote underscores that our city leaders recognize that we need a permanent home for students that is accessible and designed to promote deep learning experiences for all. I look forward to sharing more about this project as we gear up for the vote this fall."
"On behalf of the board, I want to thank City Council for their leadership in advancing the BHS/BTC 2025 bond question to the November election," said BSD Board Chair Clare Wool. "This foundational project will benefit Burlington students and our community for generations to come and I hope voters will be staunch supporters of the project and join me in voting yes on BHS/BTC 2025!"
The $165 million bond request will go towards the total project cost of $190m. Flanagan noted that the District is only asking for $165m because they have already contributed $35m in District resources to the plan. This includes $10m in American Recovery Act funds, $10m from the previous capital plan, $5m in budget savings and surpluses, and using a $10m grant from Senator Leahy to save the project $20m by moving some BTC programs into new spaces at the airport.
If approved in November, at the height of borrowing the project could have a tax impact of 15.67% for those who pay based on the value of their property. Flanagan noted that this could come down thanks to changes to the State's Weighted Pupil formula and the District's efforts to secure outside funding.
"The changes to the Weighted Pupil Formula have been a long time coming and are going to provide some relief to our taxpayers," said Flanagan. "However, it's important to remember that this increase in funds was never intended to just bring down taxes. We are committed to using some of these funds to provide increased support for students, so while there will likely be some tax relief, I don't anticipate that relief fully offsetting the tax increase associated with the bond. With that in mind, taxpayers should know that we will continue to work with our state and federal leaders to secure more funding for this project so that voters will not have to shoulder this responsibility alone. We will also continue our private fundraising efforts with the Burlington Students Foundation."
Wool noted that in order to keep the community informed, the District would be holding two Town Halls before election day, tabling at grocery stores and events, and presenting at NPAs. "Our goal moving forward is to make sure every question is answered so that when ballots arrive in the mail this September, or voters walking into the booth on November 8th, Burlingtonians can be excited and confident about voting yes for this new school."
To learn more about BHS/BTC 2025, volunteer, or donate to the support project, visit www.bsdvt.org/bhs-btc-2025.