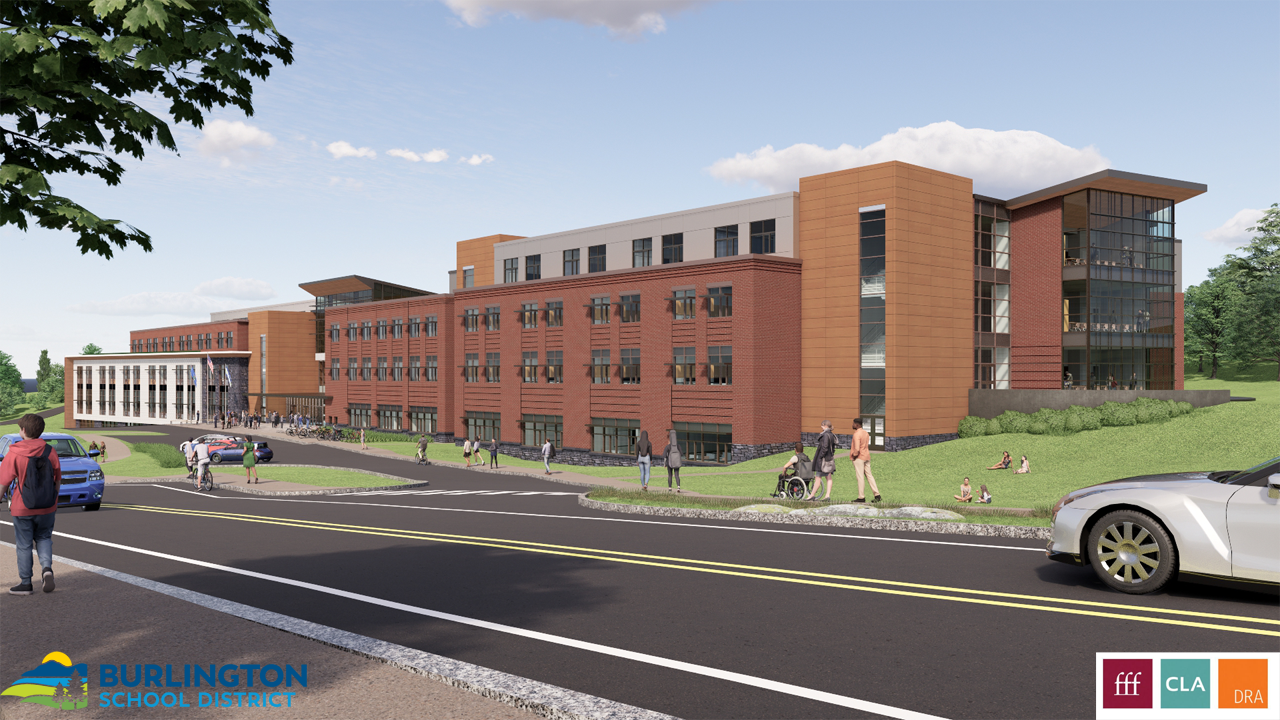 Community to Vote on Bond During November Election
Want to see what a modern high school and technical center in Burlington could look like? Burlington School District (BSD) released the most recent drawings, floor plans, and a "fly through" video of the school at a Town Hall on Wednesday, September 21st. The video, below, gives a glimpse of the building which is being designed to be open, sustainable, flexible, accessible, and vibrant. 
The District also released more tax estimates targeted toward those who pay school taxes based on their income rather than the cost of their home. Those estimates, the floor plans, and current images can be found on the project webpage: https://www.bsdvt.org/bhs-btc-2025/
"As Burlington voters gear up to make a decision, we want to make sure we are giving as much information as possible," said Superintendent Flanagan. "I want taxpayers to understand that we are balancing the impact this will have on taxes with the needs of our community to have a great school that supports deep learning for each student. That is why we continue to release information and why we are committed to answering questions about the project and connecting with the community."
Flanagan also noted that the tax estimates should be considered high-end estimates because they do not account for the influx of support that is expected to occur by the time the District needs to borrow money. "We know changes to the State's school funding formula will reduce taxes for Burlington, which is going to offset a substantial portion of this impact, and we are also actively pursuing private contributions and more than 16 federal and state grants to bring the cost down and reduce taxes. So while this information is helpful to have, I want to assure taxpayers that we are confident that the actual impact of this project will be much less than what we are projecting."
Those who have questions about the project can visit https://www.bsdvt.org/bhs-btc-2025/. Volunteers will also answer questions at The Bagel Cafe & Deli on Saturday, September 24th from 8AM to 10AM. District representatives will also present information at the Ward 4&7 NPA on September 28, the Ward 8 NPA on September 29, and at a Town Hall at the Miller Center on October 21.