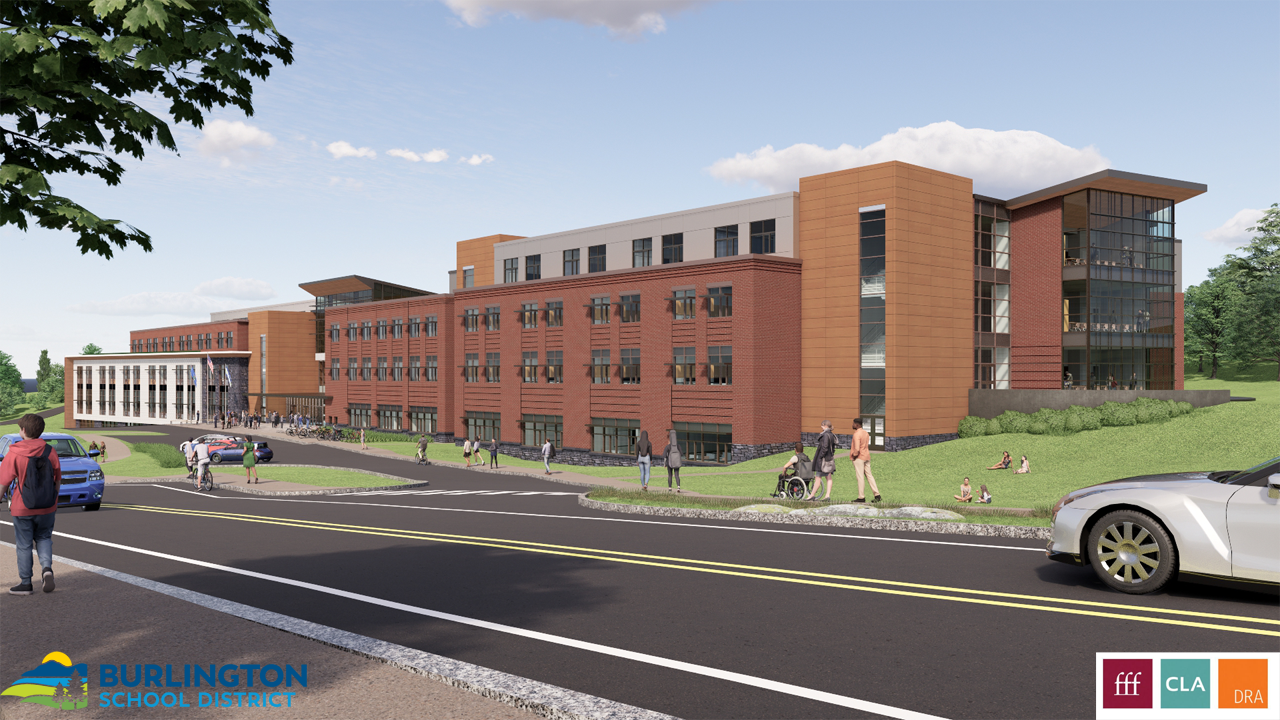 November 7, 2022
Dear Burlington,
Tomorrow is a huge day for our City. Regardless of whether you plan to vote yes or vote no, I want to encourage you to please cast your vote and have your voice heard.
Through my time connecting with you and hearing feedback, I have heard that this bond is not an issue of whether or not we need a high school, but whether or not our community can afford it. I hear you loud and clear and I want to assure you that we are doing everything we can to keep the tax burden down. So far, we have brought in $10m in grants and reduced the overall amount of the bond by $25m. Our board also chose the least expensive site and the least expensive design, the overall cost of which is squarely in line with what it costs to build a high school in New England. And we remain committed to finding funding for this project, before, during, and after our bond vote, which will reduce the tax impact.
If the bond does not pass, however, I believe a new school will cost more and take longer to build. We will not have the funds to begin demolition of the old building and keep a 2025 timeline, and we do not have a building secured in 2025.
That said, if the bond does pass, we will continue to aggressively seek funds for the project to ensure taxes are significantly lower than our initial estimate. We are seeking that funding as we speak, and will not stop until we identify more funding to support this project!
To that end, last Friday, we again asked for State support. We recently learned that the "E-Board" released $2.5m in emergency funding for PCBs in schools to Vermont's Agency of Education, Agency of Natural Resources, and Department of Health (https://bit.ly/3UAD764). When these funds were released, the groups seeking control of the funds stated they would not be used for remediation.
On Friday, our Board sent a letter to Secretary French (https://bit.ly/3NHPGtS) asking that that determination be reversed and that BSD be eligible for a substantial amount of that funding. This letter marks at least the third time we have asked for state support to build a new building – a permanent replacement to the one that the state felt we should close in August of 2020.
This morning, we were told that the AOE would not be able to unilaterally support this ask. Obviously, this was not the answer we were hoping for, but it gives us motivation to fight harder for an equitable response to our crisis in Burlington. If the State continues to tell us this is a local issue, which we have heard a number of times the past few months, I know the citizens of Burlington will stand up boldly and that this will make a difference. We did this to get the funding formula fixed last year and we will do it again. We have support from our local legislation (thank you!) and the Agency of Education knows we need help, along with other districts that will find PCB's in their buildings. We will be working extremely hard to secure funding when the legislature resumes in January and we will likely need your help to bring that funding to this project. Please stay tuned for ways you can help and thank you for your engagement and partnership through this process!
In Partnership,
Tom